Welcome to Epic Prog Radio. We play the best melodic, symphonic & progressive rock for your entertainment 24/7.
We go through all the years of both well-known but certainly also the starting progressive rock bands / artist.
In the evenings with various shows and from midnight the Auto Dj will be heard.
So stay tuned to Epic Prog Radio and enjoy the old and new melodic, symphonic &  progressive rock music!
I'm pleased to announce that

Massive Prog Radio

(presented by Nico Schouw) will now be broadcast on Epic Prog Radio at 8pm CET, 7pm UK time, 2pm EST every Sunday starting at March 26 (with a repeat at 23.00 CET, 10pm UK time, 5pm EST on Thursday)
Massive Prog Radio tries to support

progressive rock music in an enthusiastic and stubborn way.
There are some regular topics in this show like:
*Release Party, every week 2 tracks from a brand new album.
*Concert and Festival schedule, looking ahead or looking back at a concert or festival.
*EPIC of the Week, a progtrack of at least 10 minutes!
.*Be Your Own DJ at MPR, put together your own 15 favorite tracks from your favorite Prog bands. Your top hits will then be broadcast in 2 seperate hours.
The show will be in Dutch but the music speaks all languages!!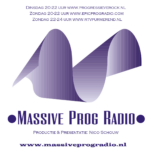 I want to thank the following bands / artists for making a awesome radio Id / jingle for my radio station Epic Prog Radio.
Abel Ganz
Armed Cloud
Band of Rain
Barock Project
Built for the Future
Chain Reaktor
Comedy of Errors
Crayon Phase
Cyril
Damanek
Dave Kerzner
Different Light
Doug Woods and Colin Powell
Drifting Sun
Electric Mud
Euphoria Station
Evership
Fish on Friday
Fractal Mirror
Franck Carducci
Gabriel Keller
Glass Kites
Glen Brielle
Glorious Wolf
Grace and Fire
Hats Off Gentlemen It's Adequate
Head Spin
Hekz
IO Earth
IT
John Holden
Jonas Lindberg & The Other Side
Kaprekar's Constant
Kite Parade
Knight Area
Last Flight To Pluto
Lazleit
Leap Day
Lifesigns
Lobate Scarp
Logos
Major Parkinson
Massimo Pieretti
Monarch Trail
My Arrival
Napiers Bones
Nine Skies
Overhead
Peter Jones
Philhelmon
Phoenix Again
Red Sand
Riven Earth
Salva
Saris
Seven Steps To The Green Door
SomeWhereOut
Splink
Stuckfish
The Adekaem
The Artrock Project
The Cyberiam
The Emerald Dawn
The Far Cry
The Flying Caravan
The Gift
The J Conspiracy
Times Up
Toxic Smile
Verbal Delirium
Wind
Zombie Picnic