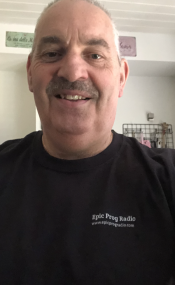 Hello, my name is Jan Bracke. Most of you will know me from the program Epics for all Time that has been running for a number of years, in which mainly only the 10+ epics can be heard. This program is and will continue to be heard on Epic Prog Radio and Prog Core Radio.
But there is so much more than just those great epics. Of course, you will also encounter epics here, but that will be relatively less than what you are used to from me in Epics for all Time. 
What are you going to hear on this radio station! Well, all those other somewhat shorter tracks that I can't pay attention to in Epics for all Time. Because all those bands / artists you've heard in recent years have more on their album than just that epic. That's why I'm starting this online radio station Epic Prog Radio.
Just like in Epics for all Time, a lot of attention is paid to the more unknown progressive rock bands / artists, but also the big names among this music stream will be heard here.
If you have any suggestions, don't hold back and send me a message via the contact form which you can also find on this website. If you are a starting band / artist, let yourself be heard of course!
I'm really looking forward to making this radio station a station in which you can hear what you, as a progressive listener, would like to hear….. Great progressive rock music!!
Enjoy listening!!